Legends Autumn Tilt Lacrosse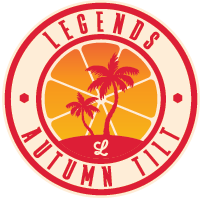 LEGENDS AUTUMN TILT
November 13th & 14th, 2021

The Legends Autumn Tilt is designed to be a fun filled experience on and off the field in one of the most premier areas in all of the US and will serve as a great way to enhance your players Fall season. Strategic scheduling and partnerships with local Visitors Bureau�?????�????�???�??�?�¢??s will allow Legends to deliver on a family focused event in a vacation destination. The Autumn Tilt is a co-ed event looking to service local and regional level teams for both boys and girls. Teams are guaranteed 5 games throughout the weekend with a possibility of a 6th via Sunday Playoffs! NFHS Rules for boys and US Lacrosse rules for Girls.
This premiere venue, lends itself beautifully to lacrosse events with 20+ fields in pristine condition and many on site attractions for off the field fun. It also provides for a short trip to entertainment and activities no matter what your liking is. Add in plenty of local eating and drinking options and it all comes together to make the Autumn Tilt a tournament you dont want to miss.
Event Format & Features
5 Games Guaranteed; 3 on Saturday & 2 on Sunday
Potential for 6th game via championship
Champion Crowned per division & prize awarded to Champions!
80+ Boys & Girls Teams!

Dates:
November 13th & 14th, 2020 (Saturday & Sunday)
Location:
SoCal Sports Complex
3302 Senior Center Dr, Oceanside, CA 92056
Divisions:
Boys: 2022 - 2029
Girls: 2022 - 2030/31
*If there are enough teams for any given division we may split into A/B sub-divisions!
Price:
Boys Teams: $1,700/team
Girls Teams: $1,400/team
Girls 2030/31 (7 v 7): $500 (3 games- Saturday Only)
Contact:
To enter a team or for general event inquiries contact Reid Doucette Reid@LegendsLax.com (516) 474-4920
For registration questions or assistance contact: Events@LegendsLax.com
Use the form below to filter by sport, season, day(s) and/or location; or scroll to view all programs.
---
Individual Fees

Regular

$50.00

Team Fees

Regular

$1400.00 per team

Payment Plans Available

Team Fees

Regular

$1700.00 per team

Payment Plans Available

Team Fees

Regular

$1400.00 per team

Payment Plans Available

Team Fees

Regular

$1700.00 per team

Payment Plans Available

Team Fees

Regular

$1400.00 per team

Payment Plans Available

Team Fees

Regular

$1700.00 per team

Payment Plans Available

Team Fees

Regular

$1400.00 per team

Payment Plans Available

Team Fees

Regular

$1700.00 per team

Payment Plans Available

Team Fees

Regular

$1400.00 per team

Payment Plans Available

Team Fees

Regular

$1700.00 per team

Payment Plans Available

Team Fees

Regular

$1400.00 per team

Payment Plans Available

Team Fees

Regular

$1700.00 per team

Payment Plans Available

Team Fees

Regular

$1400.00 per team

Payment Plans Available

Team Fees

Regular

$1700.00 per team

Payment Plans Available

Team Fees

Regular

$1700.00 per team

Payment Plans Available

Team Fees

Regular

$1400.00 per team

Payment Plans Available

Team Fees

Regular

$500.00 per team

Payment Plans Available