Legends Rivalry Weekend 2019 Lacrosse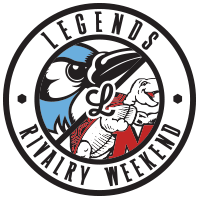 LEGENDS RIVALRY WEEKEND
Baltimore, MD
Throughout this trip, players and parents will get a first hand look at the ins and outs of Maryland and Hopkins Athletics.
Highlights include:
Attend the MD/Hopkins game and meet the coaches
Tours of both college facilities
Pre-game field access to MD/Hopkins Rivalry Weekend
Scrimmages throughout the weekend with local clubs like Crabs, Hawks, Looneys and Rising Sons
Dates: April 26 - 28, 2019
ELIGIBILITY: 2023 | 2024 | 2025
AIRPORT: Baltimore Washington International (BWI)
TRAVEL: Host hotel coming soon! For travel purposes arrive anything throughout the day on Friday the 26th. Please do not book travel home until after 5pm on Sunday the 28th
LAST YEARS SCHEDULE BELOW FOR REFERENCE ONLY (*THIS IS SUBJECT TO CHANGE AS THE MARYLAND/HOPKINS GAME WILL BE HELD AT COLLEGE PARK THIS YEAR)
Friday, April 27th, 2018
Players fly into BWI airport anytime during the day.
Saturday, April 28th, 2018
Tour the Hopkins facilities with the Hopkins coaches.
Scrimmages throughout the day near Hopkins.
Attend the Hopkins/MD Game at Homewood field
Sunday, April 29th, 2018
Parents/Players drive to UMD in the AM
Tour the Maryland facilities with the Maryland coaches.
1 to 2 Scrimmages throughout the day at Maryland
Depart from UMD to BWI anytime AFTER 5pm
---